Clark Traded to Dodgers For Dessens
It looks like Doug Melvin finally cleaned up that pesky "too many outfielders" problem yesterday and I like how he did it:
Brewers aquire Dessens for Clark (MB.com)
The Royals are paying all of
Elmer Dessens'
$1.7 mil salary this year, so Melvin had to kick in $2.1 mil in the trade to help defray Clark's $3.8 mil (mistake) salary and balance out the trade. Basically, Melvin is getting a serviceable reliever and $1.7 mil for his #6 outfielder. Hard to complain about that.
Elmer Dessens is 36 years old but appears to still have some value. Over the last three years, he's compiled a 4.25 ERA, including a 3.28 ERA and 1.24 WHIP as a reliever (thanks,
Ennder
). That compares favorably to the NL average reliever ERA of 4.21 last year. Good enough for a long reliever and Melvin has indicated that Dessens will be just that.
The team payroll is now pretty much set: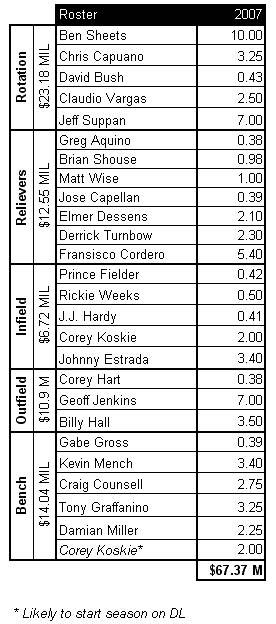 Villanueva may very well take Capellan's spot in the bullpen but that won't have any effect on that $67 mil price tag. And to think, the Brewers' payroll was $27.5 mil only 3 seasons ago.